Braised Turkey Wings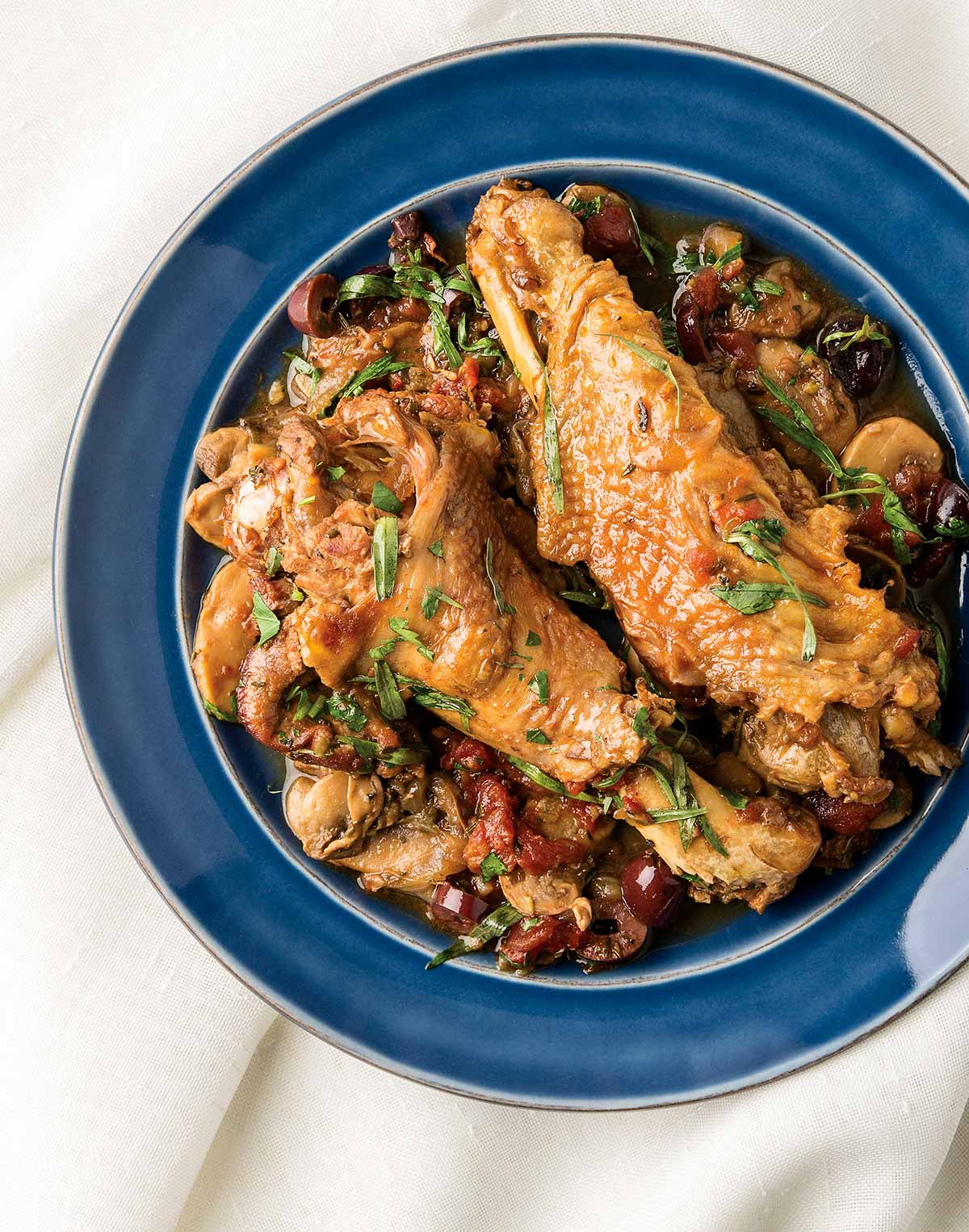 2 tablespoons bacon fat, or butter
2 tablespoons olive oil
2 lbs. turkey thighs (usually about two)
Salt & Pepper
½ pound mushrooms, quartered
1 large onion, sliced
1 teaspoon ground thyme
1 teaspoon ground rosemary
1 teaspoon ground sage
2 bay leaves
3 garlic cloves, chopped
1 lb. tomatoes, cut in half, seeded & grated
2 tablespoons tomato paste (or catsup)
1 cup red wine
1 tsp. cornstarch dissolved in a tablespoon of water
1 tablespoon butter
2 tablespoons fresh marjoram (or thyme or tarragon)
1 tablespoon fresh parsley, chopped
Preheat the oven to 250.
Heat the fat in a large pot. Brown the thighs in this over medium-high heat. Set aside after they brown.
After the turkey has browned, add the mushrooms and sliced onion and brown them; adding more oil if necessary.
When the onion and mushrooms are browned, return the turkey to the pot and add the thyme, rosemary, sage, bay, garlic, tomatoes, and wine. Scrape up any browned bits on the bottom of the pot with wooden spoon. Cover the pot and put in the oven for about 2 hours.
Check the pot after about 1 hour, and add water if needed; you'll need plenty of iquid in order to get that fall off the bone doneness.
When the turkey is almost done taste the sauce. Because of the tomato and red wine it may be a little tart. If so, add a teaspoon of sugar or honey and mix into the sauce. Place on the stove top over low heat and mix in the cornstarch & water. This should thicken in about a minute. Once it's thickened add the butter.
Sprinkle with the herb and parsley and serve with the potatoes.