Louisiana Dirty Rice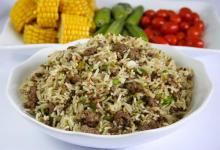 For the rice:
1 cup long grain rice
2 cups chicken broth
2 bay leaves
1 tsp. salt
For the meats:
1 tablespoon oil
½ lb. sausage
1 lb. chicken livers
For the vegetables & flavorings:
1 stick butter
½ cup celery, diced
½ cup yellow onion, diced
½ cup white part of green onion, chopped
½ cup bell pepper, diced (any color)
⅓ cup parsley, chopped
3 tablespoons garlic, diced
1 tsp. ground thyme
1 tsp. celery salt
½ tsp. ground nutmeg
1 tablespoon paprika
salt & pepper to taste
Cook rice with chicken broth, bay leaves & salt until soft & set aside.
Put a little oil in a saucepan and brown the sausage then the livers.
Remove from the pan, chop the livers and then melt a stick of butter stirring & loosening the browned bits off the bottom.
When the butter is melted add the celery, onions, bell pepper, garlic & seasonings and cook over medium heat till soft, about five minutes, then add the parsley and the green parts of the green onions.
Stir in the reserved meats & rice, then salt and pepper to taste.
Warm over a low flame for a couple of minutes and keep covered until serving.